LIBERTY'S SANDS OF IWO JIMA
X
SOUTHLAND BLACK LACE
Whelped December 12, 2020
Black, Yellow, & Chocolate Puppies
$2,200.00
---
"Stryker"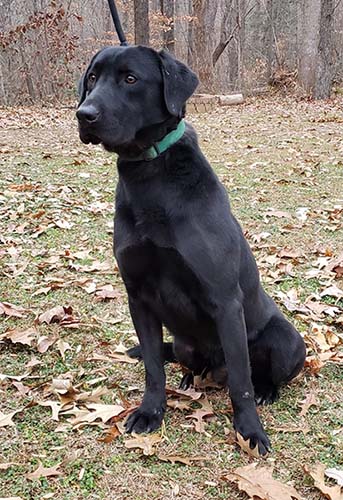 "Stryker" is a young, handsome 75 lb. black, male belonging to my assistant, Rebekah Moss. He is easy going like his Dad, Gunner, who has sired numerous litters for Southland. The pedigree goes back to some of my favorite dogs.

He is OFA (Good), OFA Elbows (Normal), CERF (Clear), EIC (Clear) and CNM (Clear).
---
"Lacey"
"Lacey" is a 70 lb. black female with a very sweet temperament. She was bred here at Southland. Her Sire was my chocolate stud, Luke and her dam was a large yellow female called Honey. Not only is she bred very well, she is affectionate and extremely intelligent and tri-factored. Being bred to Stryker, who is tri-factored, she will produce a tri-color litter. She is definitely one of my favorites.

Hips OFA (Good), Elbows (Normal), CERF (Clear).
---
This impressive pedigree should produce a fine hunting dog and/or a wonderful member of the family. It is a repeat breeding and the last litter was extremely nice. I expect the pups to be average in size, with a strong retrieving instinct. The pups will be ready to go the weekend of January 28th and the cost is $2200.00.