GUNNER FLETCHER REEVES KING OF THE HILLS
X
SOUTHLAND BLACK LACE
Whelped June 27, 2019
1 Black Male & 3 Black Females
3 Yellow Males & 1 Yellow Female
1 Chocolate Male & 2 Chocolate Females
$1,800.00
I still have 1 yellow male, 1 chocolate female and 2 black females available in the Lacey/Gunner litter. They are 16 weeks of age and looking for loving homes. The perfect pup for someone who doesn't want the issues of raising a little 7 week old pup. They are current on all shots and are very well socialized. The price has been reduced from $2200 to $1800 in hopes of finding them good homes.
---
"Gunner"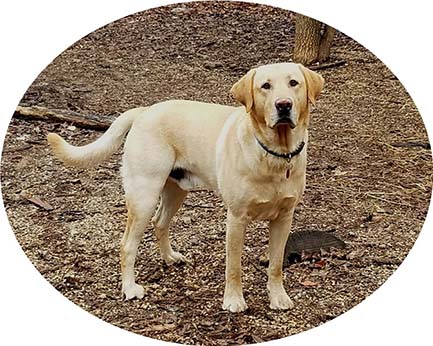 "Gunner" is a very handsome, large stocky yellow male weighing 100 lbs. He has a wonderful, easy going temperament but loves to retrieve, swim and track. He has earned his AKC Novice Therapy title as well as his canine Good Citizenship award. He is the all around perfect Lab.

He is OFA (Good), OFA Elbows (Normal), CERF (Clear), EIC (Clear) and CNM (Clear).
---
"Lacey"
"Lacey" is a 65 lb. black female with a very sweet temperament. She was bred here at Southland. Her Sire was my chocolate stud, Luke and her dam was a large yellow female called Honey. Not only is she bred very well, she is affectionate and extremely intelligent and tri-factored. Being bred to Gunner, who is chocolate factored, she will produce a tri- color litter. She is definitely one of my favorites.

Hips OFA (Good), Elbows (Normal), CERF (Clear).
---
What fun to see all three colors in one litter!! I expect the pups to be well built, have good temperaments and have a true desire to retrieve. What more could one ask for? This will be Lacey's first litter. The pups will be ready to go the weekend of August 16th. The cost is $2200.00.